Please e-mail us any original photos that you may have, showing any aspect of school life, that you think may enhance this website!
Follow the link to the gallery of your choice:
Sports Other Pictures Views Then & Now Reunions Fun Times Primary Schools
The picture below was sent in by Philip Roberts ('63 - '70). It shows (from L-R) his father Dennis Roberts, Eric Earnshaw and Reg Whale. Both Eric and Reg are "double" Old Wrexhamians, pupil then teacher!
Who are these budding Zoologists, circa 1963 ?
L - R: Barry Dickinson: Owain Jones: Robert Alliott: Paul Gittins: Merlin Price: Vic. Tyler-Jones: Robert Clarke: Huw Llewellyn Edwards: Pete Gough.
The Importance of Being Earnest - 1963
John Payne, Pat Birchinshaw, Russell Mullen, Elaine Williams, Stuart Williams, Harry Cartwright, John McKee.
Anne Roberts, Yvonne Roberts, Hilary McMahon.
Anyone know what happened to these "would-be Thespians"?
Top of the Form 1954 - Winners
Michael Burke, Martin Thomas, Eric Stansfield, Colin Bowen
Top of the Form 1962 - Runners-up.
J. Salisbury, R. G. Thomas, J. S. Williams, D. Williams
Top of the Form 1960 - Winners
The Girls were not outdone! The 1960 winning team is pictured at the Guildhall. The team was:- Josephine Boenisch (11 X), Gwenllian Awberry (IV X), Caroline Griffiths (V Alpha), Veronica Lloyd, Capt. (V1 A)
We have been sent these very interesting photographs which appeared in the Wrexham Leader in 1958. The first one was taken at a "Musical Evening" to celebrate St. David's Day. The lower one was, probably, taken on "Speech Day". Does anyone recognise anybody? Please let us know. We do have some names.....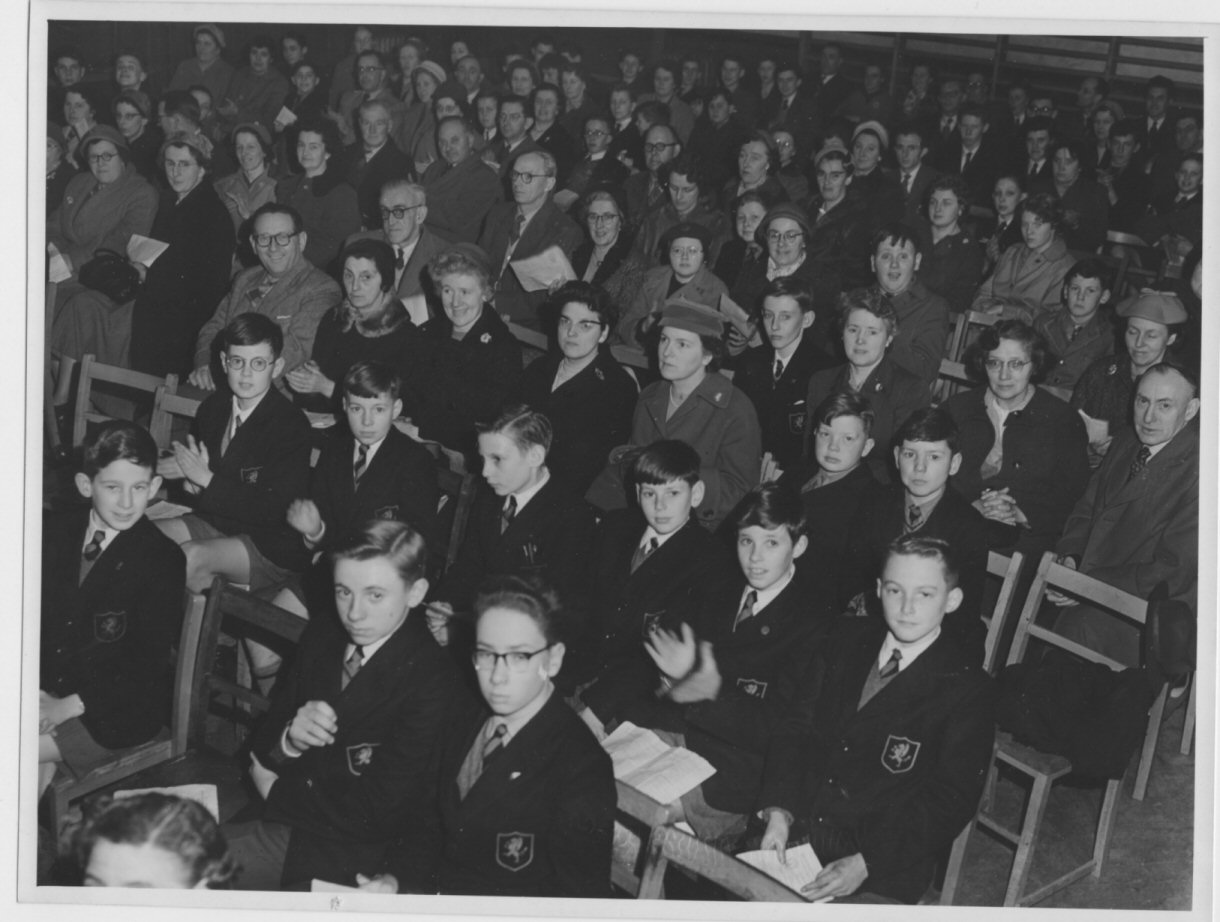 Front row: David Davies; Dave Parry: Alun Pritchard. 2nd Row: Extreme right is Brian Birchall. The boy in the fourth row is Stephen Elliott. Next but one to his right is Alun's mother next to his father.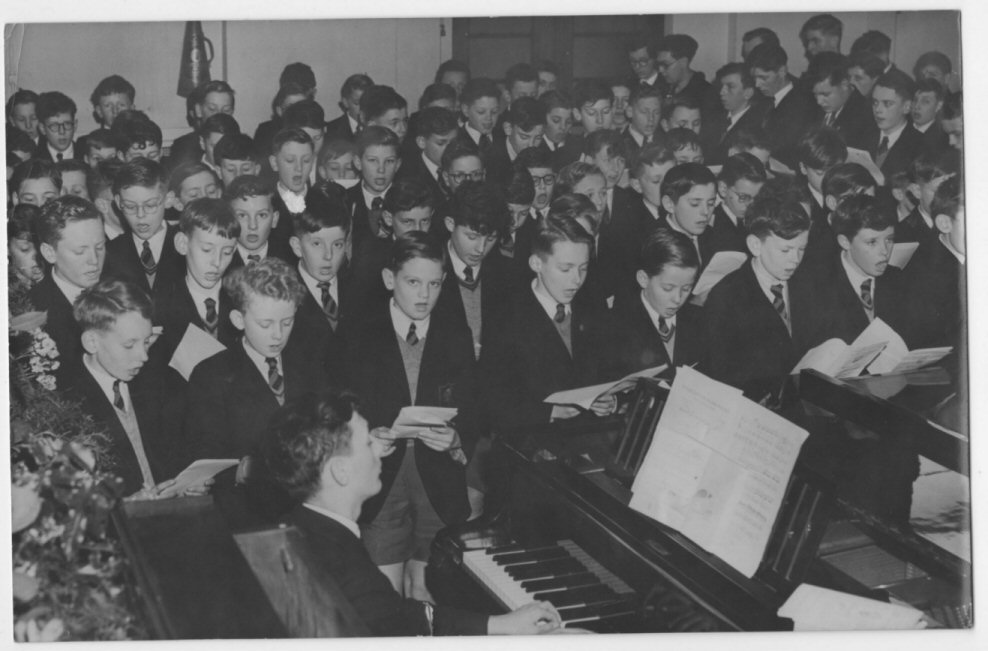 Mr. Bennett at the piano and in the first row: unknown: Bennett(?): unknown: Brian Birchall: In the third row wearing glasses is Roger Lloyd Jones who, for some unknown reason, is better known to all as "Spider"! Further along this row ,with dark rimmed "specs" and with mouth wide-open, is Robert Alliot