Archive
To return to the "News" page click here.
Fifty-five years ago, this May, The Renegades, the first group all of whose members were pupils at Grove Park, played their first two gigs. The first was as part of a show, put on by Toc H, for the patients at Meadowslea Hospital. The second was for a dance, the first of very many, at St. Margaret's Church Hall, Garden Village. I would like to thank my former band-mates for helping me begin my incredible musical journey which has gived me a lifetime of pleasure. Thanks to: Steve Lloyd, Kevin Hughes, John Andrews and John Halstead. Steve, Kevin, John Andrews and I (Roy McMahon) were all in the fourth year, John Halstead was in the fifth.
It is with great, personal, sadness that I report the death of a very loyal friend, and fellow guitarist, Ron Nicholson. Ron had lived in South Africa for more than thirty years but still kept in touch with his old friends. Our thoughts are with his wife, Kim, and daughters Heidi and Jaime.
Mike Povey, who has been exiled in Toronto for forty years, and still supports Wrexham F.C., recently won a raffle, the prize for which was to re-name the Yale Stand for a year. Consequently it will now be known as:
Mike in front of "his" stand!
The following article appeared in the Liverpool Daily Post on 24th November 2009.
Former history teacher Eric Earnshaw passed away on 21st October 2009. Although one of those who suffered his "Board of Education" and steel edged ruler many times, I still liked the man. He was one of those, so vital to the school, who gave up much of his own time to encourage and help develop the soccer players amongst us. J.A.P. Jones, who went on to achieve a "first" in history at Cambridge, says: "he was an inspiration to me, a superb teacher of his subject". (see "Obituaries")
Three Old Wrexhamians, Toni Wieczorek, Tony "Owny" Davis and Roy McMahon recently spent a week on the French Riviera courtesy of an invite from "honorary" OW, Pete George.
Roy, Owny & Toni in Monte Carlo
Toni, Owny, Roy & Pete drinking "Liquid Gold" in the Cafe de Paris. (Well it was £14 a pint!)
Now that's what I call a drink!
How do you initiate an honorary OW? Easy.....
..........you pour beer over him!
The Renegades
I know that it is hard to believe but May 4th will see the FIFTIETH anniversary of The Renegades' first "gig". This was at Meadowslea Hospital, Penyffordd, where the band were playing in a concert arranged by "Toc H".
Reunion ties

We have a number of these ties available priced £10 (including postage). See "Home" page for contact details.
The following article appeared in the Liverpool Daily Post on Monday 15th February 2010
Brian "Abo" Jones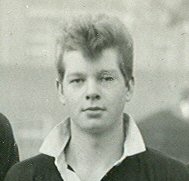 For those of you who remember "Abo" who attended G.P. from 1955 to 1960, there is a chance to meet up with him again at this year's Golf Day and Re-Union Dinner. He now lives in Spain but, on receiving his invitation, immediately booked his flight! That shows how much the OWs mean to some people. We hope that many others will follow his example and make an effort to attend.
Grove Park was mentioned on Brian Matthew's Saturday morning radio show, "Sounds of the Sixties" on Radio 2. Roy McMahon sent in a request for Kevin & Rhona Hughes on their wedding anniversary. The song requested was the original version of the song you are now hearing. The link being that when all the members of The Renegades were still in Grove Park, in 1959, the band took part in a competition in London, the prize for which was a recording contract. The competition was won by Emile Ford & The Checkmates singing this song, which they went on to record and which became the first number one of the sixties!
- - - - - - - - - - - - - - - - - - - - -
We are indebted to Wendy Preston who sent these items which relate to her father and grandfather (both named Robert Roberts!):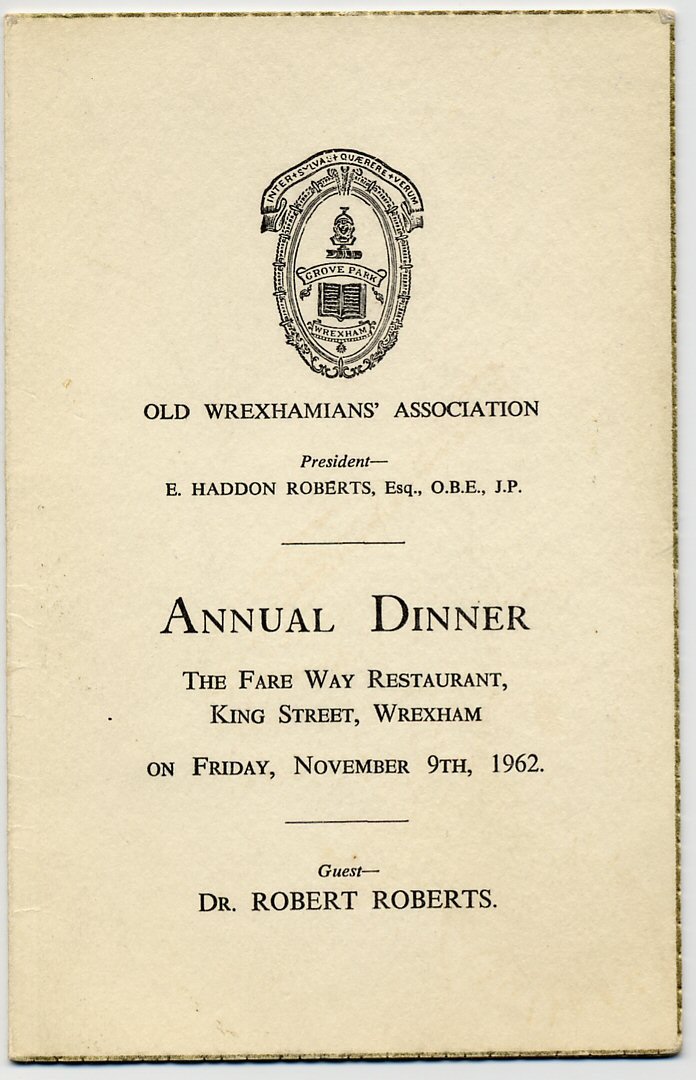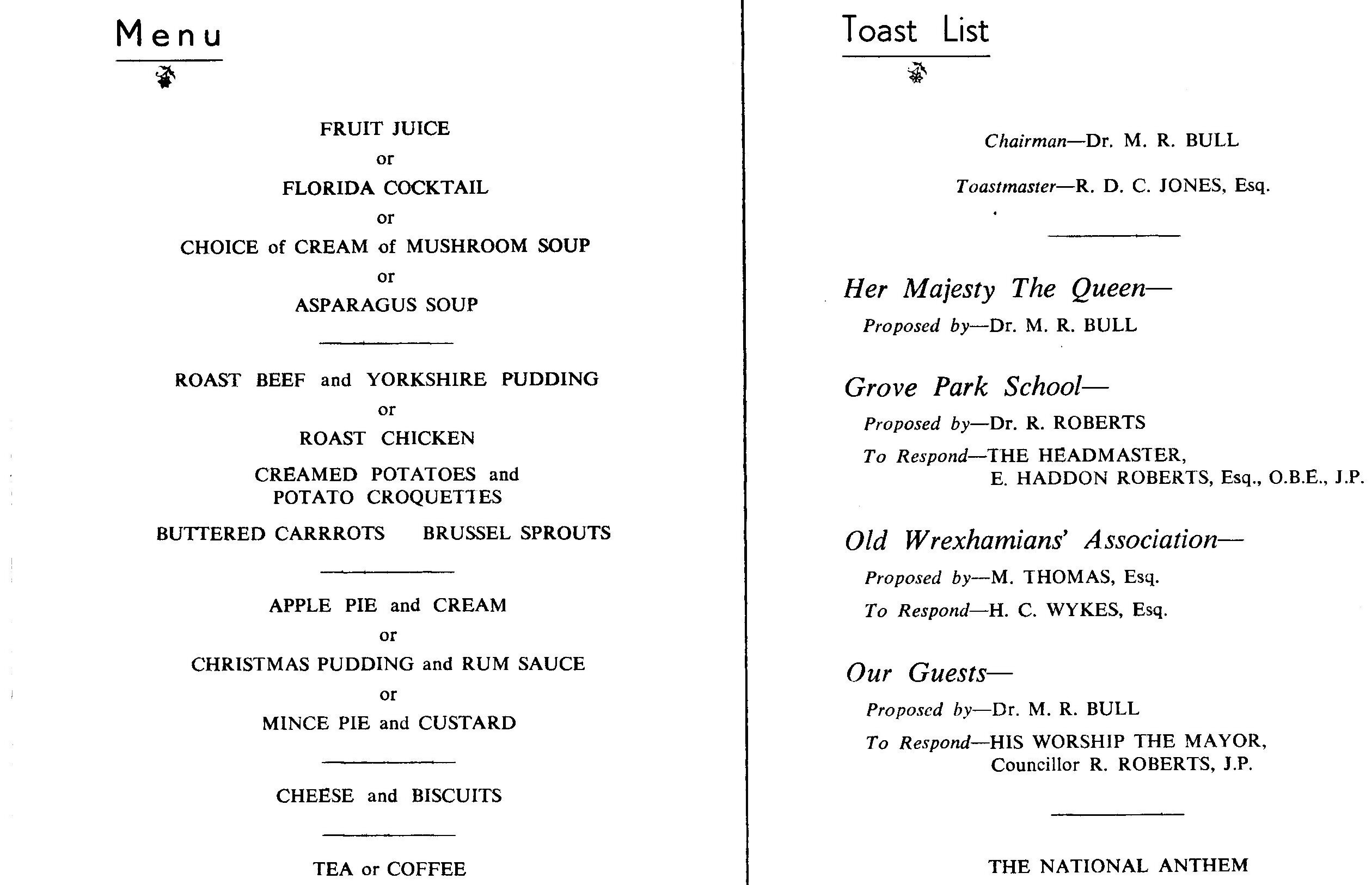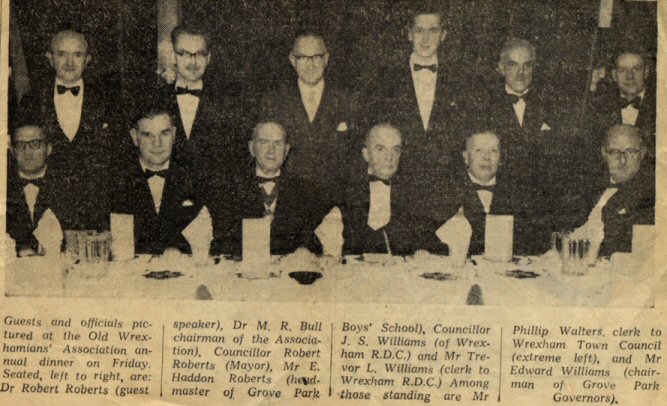 One dignitary the Wrexham Leader failed to spot was the tall fellow in the back row. However, they were not to know that Martin Thomas would become Lord Thomas, Q.C.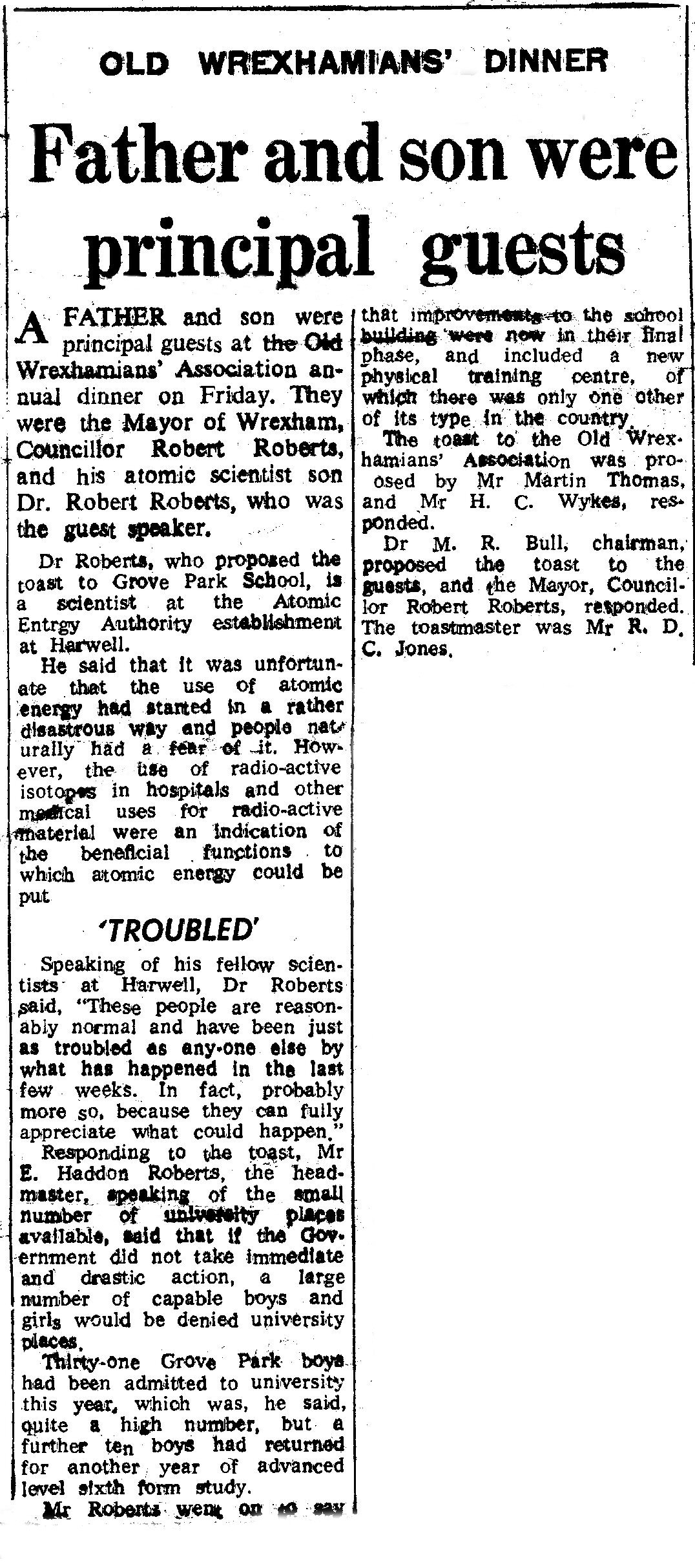 Now the question which needs to be asked is: "Should we re-instigate an annual Old Wrexhamians's Dinner?" Your views would be appreciated.
We are considering publishing an occasional newsletter, via e-mail. If you would like to be a recipient please send an e-mail to: news@oldwrexhamians.co.uk In order to test the viability of a newsletter we would welcome any suitable items whether they be: news: anecdotes: obituaries (sadly): memories: information on "missing" people etc.
October 2008: I received, this week, an e-mail from the daughter of an Old Wrexhamian. I make no apologies for re-printing it in full. For me the last paragraph sums up precisely what Grove Park means to most of us. With it came a photograph which I also re-print.-
"My mother, Irene Dennis, nee Prydderch, died on Saturday 27th Sep 2008 after a long illness, in Welshpool Hospital. She was an old girl of Grove Park School and I would like her memory honoured in some way.
Irene was born in the Ffrwd, daughter of a miner firstly at Gresford Colliery and then at Llay Main Colliery, one of seven children with no running water, it being brought from a well.
She was born on 16 Sept 1921 and attended Abermorddu Primary school where she was taught by a gifted teacher. One of her classmates was David Lord V.C. ( I took my mother to Arnhem cemetery, some time ago, to see his grave)
My mother was a brilliant student from a poor background and she passed the scholarship for Grammar School. Her father, Bill Prydderch, supported education for girls but because he did not have the bus fare to Wrexham she had to walk from Ffrwd to the "top road" at Cefn-y-Bedd because it was a penny cheaper! Can you imagine a child doing that today? She also had to walk home from there in all weathers, summer and winter.
She wanted to be a Doctor but it was made clear to her that at that time a woman from a poor background could not enter medical school despite being very clever. She therefore became, after three years study, a State Registered Nurse, working in Newcastle, Wrexham, Liverpool, and then back to Wales at Meadowslea Hospital where she was a Staff Sister.
She was widowed at 43 , never re-married and brought up four children , all with a massive emphasis on education.
Grove Park should be extremely proud of nurturing this wonderful, proud and intelligent woman. She constantly mentioned her Grammar School Education , not in a superior way but with gratitude for the opportunities it gave her. Please ask old girls to remember her".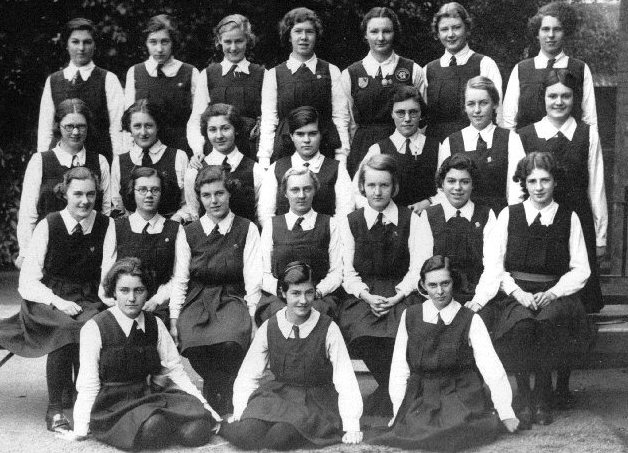 Grove Park Girls' School, Form V, November 1937.
From left, back row: Audrey Barratt, Margaret Price, Melza Davies, Moira Griffiths, Mary Roberts, Muriel Ellis, Peggy Bernard.
Third row: Mary John, Ethel Stuart, Mary Quick, Rosina Jones, Dorothy Williams, Elsie Pierce, Betty Williams.
Second row: Vivien Roberts, Megan Roberts, Betty Thomas, Peggy Williams, Beryl Roberts, Betty Jones, Irene Taylor.
Front row: Lydia Harding, Irene Prydderch, Enid Jones.
May 2008: Grove Park mentioned on "Sounds of the Sixties"!
On Saturday 19th May, Grove Park was mentioned by Brian Mathew. A request was sent in, by Roy McMahon, for the 40th wedding anniversary of Kevin Hughes and his wife, Rhona. Roy had written to Brian explaining how The Renegades was formed by friends at Grove Park in 1959 and how, later that year, they had entered a competition at The Soho Fair, in London. The competition was won by Emile Ford & The Checkmates singing "What Do You Want To Make Those Eyes At Me For". They were signed up by Pye Records and the song released as their first single. It went to the top of the charts in December and stayed there until January, making it the first number one of the sixties!
The version that you are hearing is by Roy McMahon.
April 2008 : Destruction at its worst!
Wrexham County Borough Council are, it appears, pressing ahead with plans to demolish the Girl's School. Having made a complete hash of the "Super-School" idea by housing it at St. David's High School, where the 1950's buildings required many more millions spent on them than was anticipated, they now want to recoup some of the huge losses by selling the Chester Road/Powell Road site for building. Compare this attitude to that of the enlightened councillors of St. Helens where they have turned the former Cowley Girl's Grammar School building into much sought-after luxury apartments, and, in doing so, maintained the external appearance in its original form.
March 2008: Grove Park Girls in London - the year of '55
At the September Lion Quays lunch *, now a regular feature in the diaries of Wrexham based 'Old Girls', it was suggested that those living in the south east could meet up in London. As a result a group met for a very long lunch in November at the National Portrait Gallery Trafalgar Square. We all had such a good time that a second date was put in the diaries - Wednesday 16 April - lunch and maybe a theatre matinee have been proposed but details have yet to be finalised.
So far the following have joined the group - Jean Payne (Tilston), Ruth Lamb-Hughes (Mills), Ann Fisher (Kendrick), Christine Vaughan-Jones (Edwards), Meryl Scott (Jones), Norma Bethell (Kenyon) and Helen Botfield (Marwood). Ruth Pickworth (Hamlet) and Olwen Williams (Davies) were unable to make the date. It would be good to hear from other old school friends now living in the south east. Please contact Ruth Lamb-Hughes (gren@lamb-hughes.freeserve.co.uk) or Helen Botfield (helenbotfield@hotmail.com) if you would like to hear more about future plans.